We fabricate mobile plastic tanks to virtually any shape or size!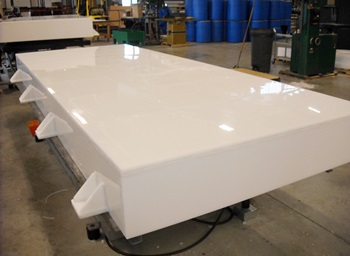 Our custom holding tanks are designed to take full advantage of every cubic inch of space and floor plan. Angles, radii, cut-outs, notches, are never a problem.
Our mobile water tanks can also be heated for use in freezing applications.
Send us your sketch and you'll typically have a new custom holding tank in 2 weeks or less!
These custom fabricated tanks start at $1,491.
GET A CUSTOM PLASTIC TANK QUOTE
Our experience can help you choose the right material for your particular custom plastic tank. We're just a phone call or click away.
We offer free design assistance and can provide 2D or 3D drawings using AutoCAD and SOLIDWORKS
Our tanks are engineered using FEA (Finite Element Analysis) to maximize performance and allow for minimal bowing of the fabrication.
The Kinds of Mobile Plastic Tanks We Can Fabricate to Your Exact Specifications Include:
Plastic Machining Capabilities & Benefits
We make connectivity to your vehicle flexible by machining threads directly into tank walls for low profile plumbing installations.
We can also provide welded-on threaded fittings or barbed connectors.
Reduced Sloshing & Complete Emptying
Unlike a molded tank, we can install internal supports and baffles to strengthen the welded holding tank and reduce sloshing.
We can also install castellated pick-ups and truncated baffles to allow complete emptying.
Welded plastic holding tanks are far superior to molded holding tanks due to consistent wall thickness and overall heavier construction, which makes road hazard penetration less likely.
Our welds are second to none, being very smooth and easily cleaned. Nothing leaves our shop with a saw cut edge or a sharp edge. Every piece is individually cut out on high-tech CNC routers.
Some of the Materials We Work With Include:
Machining Plastics vs. Molding Plastics
We cut all custom plastic holding tank components with the latest in CNC equipment, and use only Virgin U.S. material to ensure the absolute highest quality.
This accuracy and quality is repeated on every plastic holding tank for consistent operation and reliable function.
It's important to note that we weld our mobile plastic tanks to the strict German DVS welding standards.
This specification is used to measure the integrity of commercial chemical and acid tanks, so you can be assured of long-lasting integrity for this critical component.
Preferred OEM Supplier of Commercial Mobile Restroom Tanks
Miller Plastic Products is the OEM supplier of mobile holding tanks for many leading restroom trailer and RV manufacturers.
Our warranty and the heavy duty industrial nature of our designs make us the #1 choice for a tank vendor.