Miller Plastic Products is a plastic gear manufacturer offering the best custom-made plastic gears you'll find anywhere.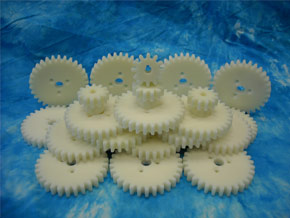 Our engineering team sets the industry standard for developing long-lasting, corrosion-resistant custom plastic gears in diameters ranging from .5″ to 72″.
We can also reverse engineer and reproduce replacement plastic gears from your broken samples or incomplete definitions.
Our custom plastic gears are used in a variety of applications where corrosion, wear, and noise resistance are vital, including:
Types of Plastic Gears We Fabricate
Some of the Materials We Work With Include:
You're always welcome to visit Miller Plastics' state-of-the-art facilities in Burgettstown, PA, near Pittsburgh. Let us know when you'd like to come!