Heavy-duty plastic hinges, encapsulations, and extrusion welding shoes
At Miller Plastic Products, we specialize in the fabrication of high-quality precision-machined plastic components. Use our high-quality plastic fabrication supplies to enhance the quality and appearance of your appliances.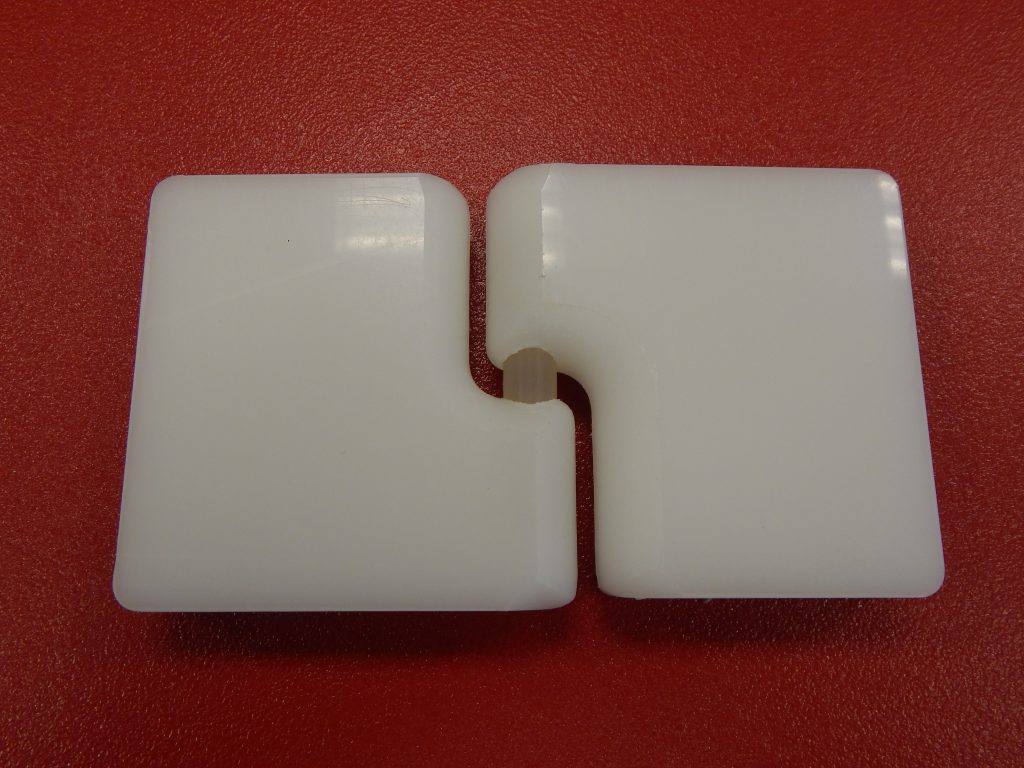 We custom machine industrial quality all-plastic hinges for tanks, vessels, containers, cabinets, etc. Ideal for use where corrosive chemicals are present, our precision machined plastic components provide long life and great value.
At 3″ wide by 5″ overall length and .75″ thick, our design is wider and thicker than typical molded hinges to increase the attachment footprint and improve load handling capacity. They can be welded on or bolted. Available in any plastic material and color: PVC, CPVC, Polypropylene, polyethylene, Kynar, Acrylic, etc.
Our welds are second to none, being very smooth and easily cleaned. Nothing leaves our shop with a saw cut edge or a sharp edge. Every piece is individually cut out on high-tech CNC routers. Request a quote for our custom CNC machining services below.
The hinges are typically welded on, but can also be affixed with hardware.
Extruded Tank Reinforcement Encapsulation
We utilize a high quality molded plastic c-channel to encapsulate our steel reinforcement bands on tanks, vessels, and stands. Our molded c-channel encapsulation is superior to bent sheet stock because it does not have weakened corners.
The encapsulation is available in two sizes to fit standard steel tubing. It is conveniently sized to accommodate dissimilar thermal expansion rates between plastic and steel reinforcing bands. It is available in black, natural, and Euro grey, Co-Poly Propylene material. Available in 1 ½" or 3" square steel tubing cover. Our standard section length 30' but it can be cut or mitered to custom lengths.
Custom Teflon Welding Shoes for any brand extrusion guns
Machined out of 100% virgin U.S. made PTFE(Teflon) material, our welding shoes are long-lasting and durable. Stock sizes and shapes, or Custom Machined to produce the weld size and contour you desire while matching fitment with your welding equipment. For Wegener, Leister, etc.
We can make custom shoes from samples, sketches, or CAD files.
Radius fillets
Triangle fillets
Offset fillets
Angled shoes
Long reach shoes.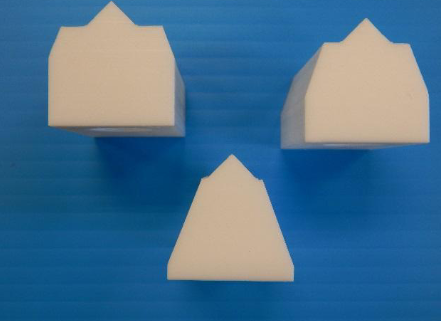 Some of the Materials We Work With Include:
Trade Show Pallets, Tables, Containers, and Fixtures
Precision machined plastic components provide an ideal method to create durable, attractive trade show appliances that can result in significant savings to your trade show budget. For example, heavy display products can be mounted directly to custom pallets and stands to eliminate the need for "riggers" to manipulate or install.
Pallets and containers can also be transformed into tables, benches, and backdrops.
Quickly assemble and disassemble your shipping pallet/tradeshow table.  Break your table down at 5 o'clock, it turns into your shipping pallet in five minutes and there's no need to wait for your box to be delivered to your booth.  Often times exhibitors have to wait hours for the pallet to show up.  If the show is over at five, you can be on your way to the airport at 5:30.  This can save substantial money on renting a table for your booth, additional hotel rooms, and other expenses.
Our plastic pallets are superior to wood pallets in many aspects, such as longevity, durability, flexibility, ease of use, etc.
GET A CUSTOM PLASTIC TANK QUOTE
Our experience can help you choose the right material for your particular custom plastic tank. We're just a phone call or click away.
We offer free design assistance and can provide 2D or 3D drawings using AutoCAD and SOLIDWORKS
Our tanks are engineered using FEA (Finite Element Analysis) to maximize performance and allow for minimal bowing of the fabrication.