Miller Plastic Products has the expertise, knowledge, and experience to create the perfect plastic laboratory equipment for your specific needs.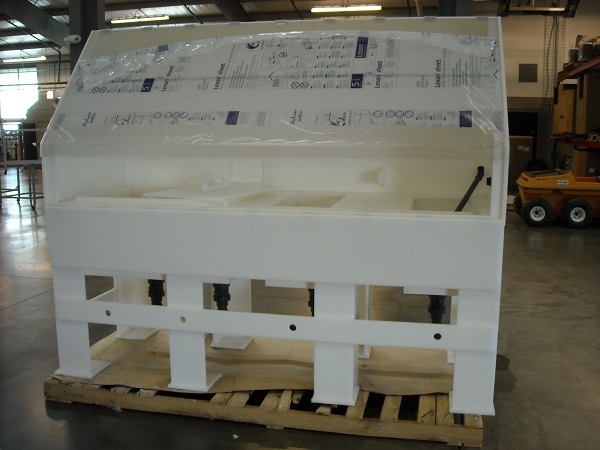 We can build custom plastic lab equipment, wet benches, sinks, trays, counter tops, and cabinet systems. 
Most of our plastic laboratory equipment and furniture is constructed with polypropylene or PVC, both of which are economical materials that offer a combination of outstanding physical, chemical, mechanical, thermal, and electrical properties.
The plastic lab equipment we can produce at Miller Plastics is lightweight, non-staining, and exhibits low moisture absorption rates. They are ideal for all laboratory needs. 
All edges and components are CNC cut, nothing leaves our shop with saw cut edges, burrs, or sharp edges. Welds are smooth and burr-free to minimize sediment buildup and allow for easy cleaning. Request a quote for custom wet benches and lab accessories today.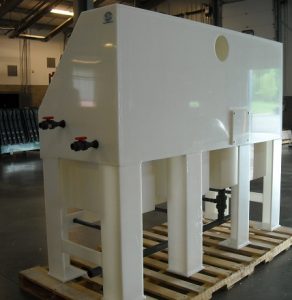 We specialize in building automated wet benches in which silicon substrates are fully processed and dried by the end of the sequence.
Wet benches typically are process platforms used to carry out wet cleaning and etching operations in semiconductor processing.
Wet benches commonly consist of several tanks (or modules/baths), each containing either a cleaning, etching solution (for acid or solvent processing) or deionized rinsing water (DI) in which silicon wafers are immersed in a predetermined sequence that usually includes a drying process.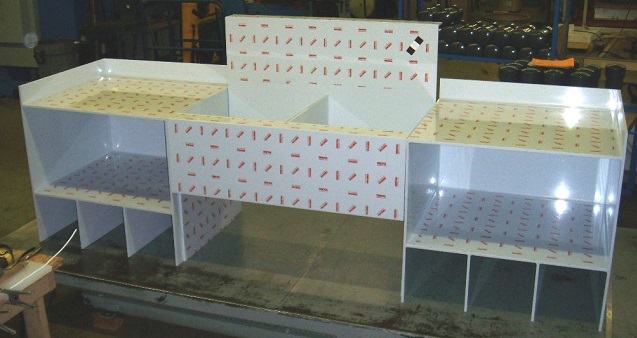 Our lab sinks can feature custom-built drying racks, eye wash stations and a variety of faucet configurations.
Our lab sinks are constructed to withstand the harshest industrial & institutional applications, and tough chemical environments, making for a great piece of plastic lab equipment for all your operations.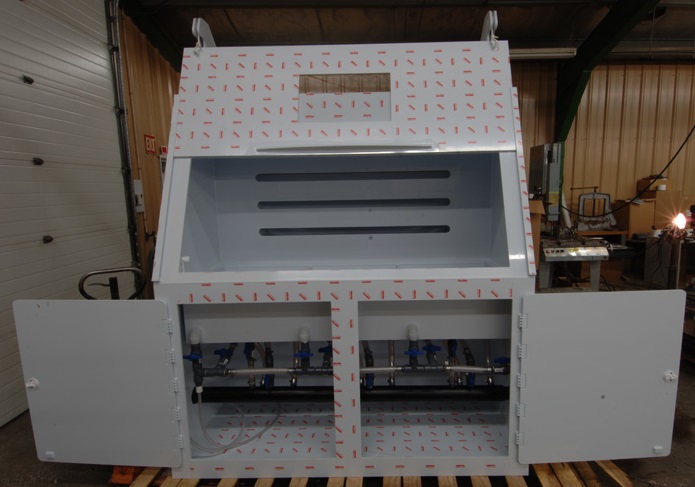 We can create storage systems and cabinets to meet almost any specific requirement.
We can create shelving with unlimited height adjustment, a variety of drawer configuration and plenty of sample bins.
Custom Lab Furniture: Strategically Engineered to Improve Efficiency & Versatility
Unlike other lab furniture manufacturers who only offer off-the-shelf designs, Miller Plastic Products focuses on the specific needs of your process. We provide ideal solutions to improve efficiency and versatility.
Our custom plastic lab equipment, including our wet benches and laboratory cabinets, feature precision-cut CNC components. These custom components ensure perfect registration, fit, and finish.
Plus, our welds are smooth and symmetrical for high strength and ease of cleaning.

All custom lab accessories, including plastic tanks, trays, vessels, containments, wet benches, etc., are hydrostatically leak tested for 24 hours to ensure the plastic lab equipment you're receiving is fully operational for your needs.
You're always welcome to visit Miller Plastics' state-of-the-art facilities in Burgettstown, PA, near Pittsburgh. Let us know when you'd like to come!
We design and build the highest quality furniture for your laboratory environment. Our furniture is constructed out of polypropylene with non-metallic hardware, so you don't have to worry about stains or rust. Also, since polypropylene is non-corrosive, you can be confident that your furniture is built to last.
Not sure how to configure your plastic laboratory equipment? No problem. Our experienced technicians are happy to work with you to determine your specific needs. If your project is larger or complex, our staff has the ability to create 3D SOLIDWORKS & AutoCAD renderings and drawings so we can meet your exact needs.
Typical Lab Furniture Requests:
Some of the Materials We Work With Include:
GET A CUSTOM PLASTIC TANK QUOTE
Our experience can help you choose the right material for your particular custom plastic tank. We're just a phone call or click away.
We offer free design assistance and can provide 2D or 3D drawings using AutoCAD and SOLIDWORKS
Our tanks are engineered using FEA (Finite Element Analysis) to maximize performance and allow for minimal bowing of the fabrication.