Covid-19 is affecting our health care workers, first responders, and our daily work force. Anyone in a forward facing industry is at risk. This risk can be mitigated by implementing the use of personal protective equipment. Miller Plastic Products has ramped up our production efforts focusing on these products. Our protective items are fabricated using materials made right here in the United States. Miller Plastic Products' employees are assembling everything right here in Pittsburgh PA and shipping directly to you. We are manufacturing PPE daily and shipping daily. Ready to ship now.
Reusable Protective Face Shield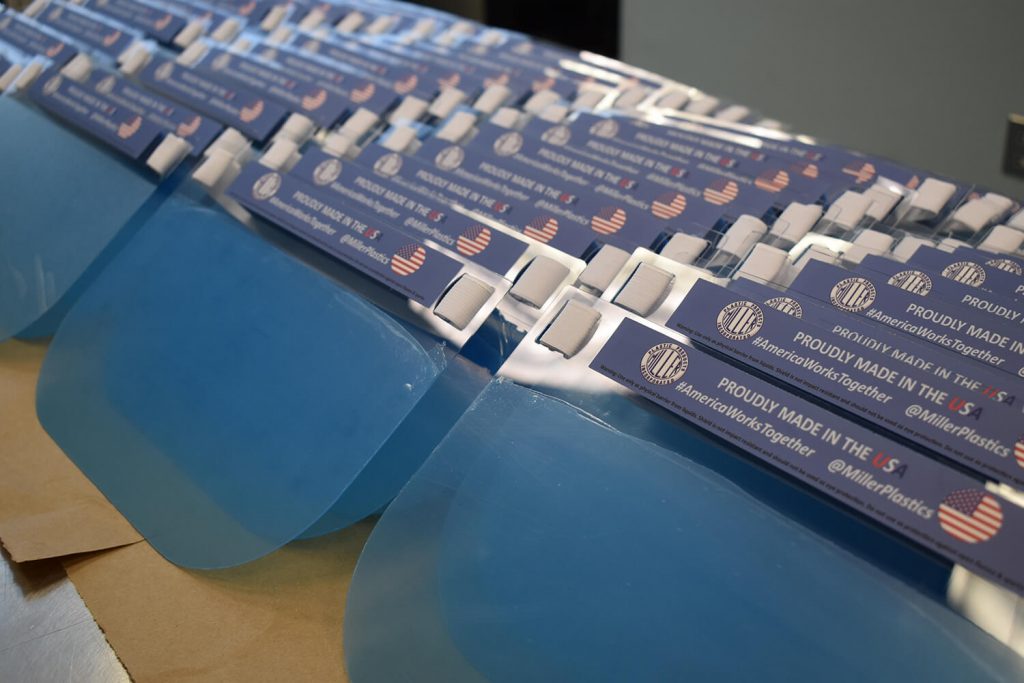 Miller's face shields are comfortable and effective. We are using crystal clear Poly-Carbonate that is more than twice as thick as other units that are described as "one time use." The foam forehead pillows are made from impenetrable foam that breathes and is very soft. They are fog resistant and scratch resistant during normal working conditions. These are to be expected to be used for long periods of time. There is plenty of space for eye glasses and a secondary mouth/nose mask. (Miller Face Shields are not currently as certified medical devices) 
Freestanding Retail Barriers
The perfect barrier between you and your customers. Aesthetically pleasing. No need for screws or fasteners. These freestanding barriers just require a flat surface to sit upon. The bottom is weighted with a Poly-Ethylene base that is 1 inch thick. We use optically clear poly-carbonate that slides into the base. No glue or fasteners are required for assembly. There is a pass thru slot at the bottom of the partition for the exchange of money or paper work.
We offer multiple different sizes that accommodate most applications.
| | | | | |
| --- | --- | --- | --- | --- |
|   | Width | Height | Depth | Pass Thru |
| Small | 25.5″ | 28.5″ | 9″ | 12″ x 5″ |
| Medium | 33.75″ | 28.5″ | 9″ | 13″ x 5″ |
| Desk Partition | 25.5″ | 25.5″ | 5″ | n/a |
| Large – Tall | 28.5″ | 41.5″ | 9″ | 12″ x 12″ |
| Large – Wide | 47.5″ | 28.5″ | 9″ | 16″ x 5″ |

Cleaning: We recommend a soft cloth such as a microfiber towel and non abrasive window cleaner that is ammonia free. Our barriers will make you feel confident that you are keeping people safe while maintaining the appearance you want. We feature a frame-less design that assembles in less then one minute. The barriers are impact resistant, they will not shatter, there is no need to be fastened to your counter and will not tip over.